Examples of research areas of the lab
Affect and emotional responses to multimodal media (e.g. aesthetical judgements and emotional responses to music or visual art; assessing surprise and suspense with EEG).
Psychophysiology and media cognition (e.g. evoked brain potentials in interaction with an audio-visual game; monitoring heart rate in interaction with immersive environments)
Sustainable and socially responsible cognitive technologies in education, culture, and assistive systems (e.g. interactive narrative for audiologist-children relations; eye-tracking patterns of students learning programming; cognitive load and attention in relation to digital media).
Embodied cognition (e.g. body movement and psychophysiological responses to musical rhythm).
Integration of biophysiological measurements with qualitative subjective methods (e.g. integration of EEG and eye-tracking with ethnographic approaches in art perception).
Current projects
A Neurocinematic Approach to Film Grammar and Syntax
In collaboration with Department for Audiovisual Communication, University of Barcelona ,we investigate the neurological footprints of cuts and blinks in film and their relationship to the syntactical changes in film. This collaboration is a part of Javier Sanz Ph.D thesis.
Arts in Hospitals
In this project we are investigating whether cognitive processes differ for figurative or abstract art that has been manifestly reported as pleasant or unpleasant by the viewer. The lab is responsible for combining  EEG and Eye-tracking to  investigate the neurological patterns related to abstract and figurative paintings.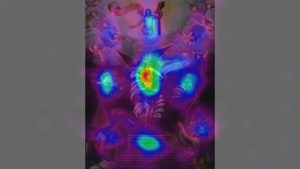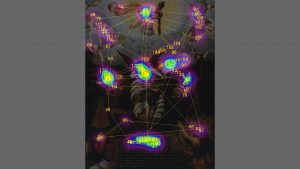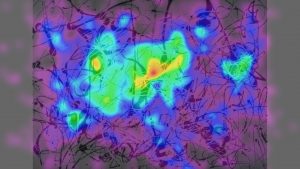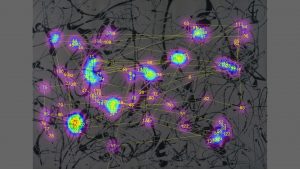 External collaborators
Dr. Paul Mulholland, Knowledge Media Institute,  The Open University, U.K.
Professor Lily Díaz-Kommonen, Department of Media, Aalto University, FI.
Assistant Professor Carlos Aguilar Paredes, Department for Audiovisual Communication, University of Barcelona, ES.
Professor Anne Danielsen, Professor Rolf Inge Godøy, Associate Professor Alexander Jensenius and more at RITMO Center for Interdisciplinary Studies in Rhythm, Time and Motion, University of Oslo, NO.
Events
2017 Somaesthetics of RHYTHMIC Interaction Workshop
Aalborg University Copenhagen, June 6-7 2017.
8th International Conference on Interactive Digital Storytelling ICIDS 8, Copenhagen., November 30 – December 4, 2015.
The Psycho-physiology of Meaning-Making, Preconference for Gatherings in Biosemiotics, Copenhagen, June 29 2015.
15th annual Gatherings in Biosemiotics, Copenhagen, June 30-July 4, 2015.