Examples of research areas of the lab
Affect and emotional responses to multimodal media (e.g. aesthetical judgements and emotional responses to music or visual art; assessing surprise and suspense with EEG).
Psychophysiology and media cognition (e.g. evoked brain potentials in interaction with an audio-visual game; monitoring heart rate in interaction with immersive environments)
Sustainable and socially responsible cognitive technologies in education, culture, and assistive systems (e.g. interactive narrative for audiologist-children relations; eye-tracking patterns of students learning programming; cognitive load and attention in relation to digital media).
Embodied cognition (e.g. body movement and psychophysiological responses to musical rhythm).
Integration of biophysiological measurements with qualitative subjective methods (e.g. integration of EEG and eye-tracking with ethnographic approaches in art perception).
Projects
A Neurocinematic Approach to Film Grammar and Syntax
In collaboration with Department for Audiovisual Communication, University of Barcelona ,we investigate the neurological footprints of cuts and blinks in film and their relationship to the syntactical changes in film. This collaboration is a part of Javier Sanz Ph.D thesis.
How to evaluate emotional experiences in television drama series
In collaboration with DR (Danish Broadcasting Corporation) we have made different  experiences with new methodological approaches utilized in early viewer evaluations of a public service television drama series. The aim was to challenge self-reports as the only source of data in viewer evaluations of television drama series. Based on different viewer evaluation studies of one-hour drama series, conducted in an applied research setting, we outline pros and cons of electroencephalography (EEG) and skin conductance (SC) measurements tested in combination with in-depth interviews and written self-reports. Today DR use a research design consisting of skin conductance measurement and written self-reports as the preferred method for viewer evaluations of television drama series.
Heiselberg, L. and Bjørner, T. (2018). How to evaluate emotional experiences in television drama series: improving viewer evaluations using a combination of psychophysiological measurements and self-reports. Behaviour and Information Technology, 37(9): 884-893. https://doi.org/10.1080/0144929X.2018.1505953
Eye-tracking as a measure for cognitive load when programmers is comprehending source code
Programming code, can be both structured with understandable descriptive comments and identifiers, or less so. We have conducted a preliminary study with novice programmers showing that their cognitive load based on fixation duration is significantly higher for code snippets lacking textual elements (proper comments and descriptive identifiers) compared to code with textual elements, while the lack of structural elements provoked a more chaotic gaze pattern seen by the significantly higher amount of fixation points and saccade length (2). Moreover the study does not end there, as several new questions surfaced after the study was made.
Wulff-Jensen, A., Ruder, K. V., Triantafyllou, E., &,Bruni, L. E. (2018, June). Gaze Strategies Can Reveal the Impact of Source Code Features on the Cognitive Load of Novice Programmers. In Advances in Neuroergonomics and Cognitive Engineering: Proceedings of the AHFE 2018 International Conference on Neuroergonomics and Cognitive Engineering, July 21–25, 2018, Loews Sapphire Falls Resort at Universal Studios, Orlando, Florida USA (Vol. 775, p. 91). Springer.
Arts in Hospitals
In this project we are investigating whether cognitive processes differ for figurative or abstract art that has been manifestly reported as pleasant or unpleasant by the viewer. The lab is responsible for combining  EEG and Eye-tracking to  investigate the neurological patterns related to abstract and figurative paintings.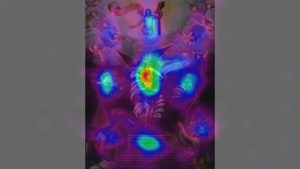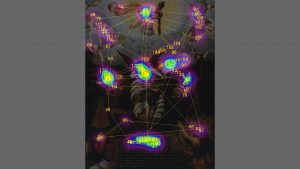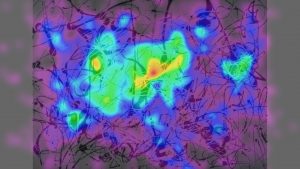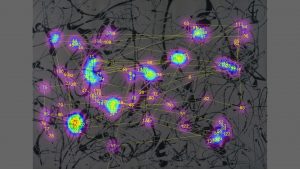 External collaborators
Dr. Paul Mulholland, Knowledge Media Institute,  The Open University, U.K.
Professor Lily Díaz-Kommonen, Department of Media, Aalto University, FI.
Assistant Professor Carlos Aguilar Paredes, Department for Audiovisual Communication, University of Barcelona, ES.
Professor Anne Danielsen, Professor Rolf Inge Godøy, Associate Professor Alexander Jensenius and more at RITMO Center for Interdisciplinary Studies in Rhythm, Time and Motion, University of Oslo, NO.
Events
2017 Somaesthetics of RHYTHMIC Interaction Workshop
Aalborg University Copenhagen, June 6-7 2017.
8th International Conference on Interactive Digital Storytelling ICIDS 8, Copenhagen., November 30 – December 4, 2015.
The Psycho-physiology of Meaning-Making, Preconference for Gatherings in Biosemiotics, Copenhagen, June 29 2015.
15th annual Gatherings in Biosemiotics, Copenhagen, June 30-July 4, 2015.